September 2017 Sneak Peek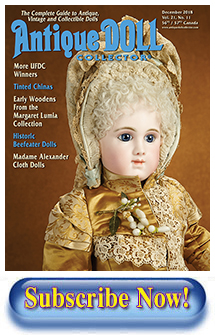 Our cover this month features a beautiful duet of two rare and wonderful Izannah Walker dolls.
The cover is so beautiful, that you'll want to frame it!
Along with the gorgeous cover is a story wishing Miss Walker a happy 200th birthday!
If you love Barrois dolls as I do, you'll love our feature article called "Barrois Beauty Secrets."
Among French Fashions dols, they are among the prettiest.
My own small example came home with me after a
San Jose
doll show.
Her vendors even found a bag printed in French to wrap her in on her way home!
There is a very interesting story of a costume doll from
Spain
.
Spain
has a rich doll making tradition, and makers like Berjusa, Marin, Klumpe, and Mary Vas trip off the tongues of the collectors who love them. This very well-researched article is a delightful lesson in cultural geography and dolls.
Our collectibles column is a tribute the maestro himself, Mr. R. John Wright.
Featured in the discussion are his terrific new
Gone with the Wind
mice.
Read the biography of an amazing doll with Provenance, and tour yet another fanastic doll museum.
As always, we feature important upcoming auctions, UFDC reports, doll shows, and lots and lots of lavish pictures.
We are doll eye candy at its best!
Come explore our pages, and think of us as your own private doll museum.